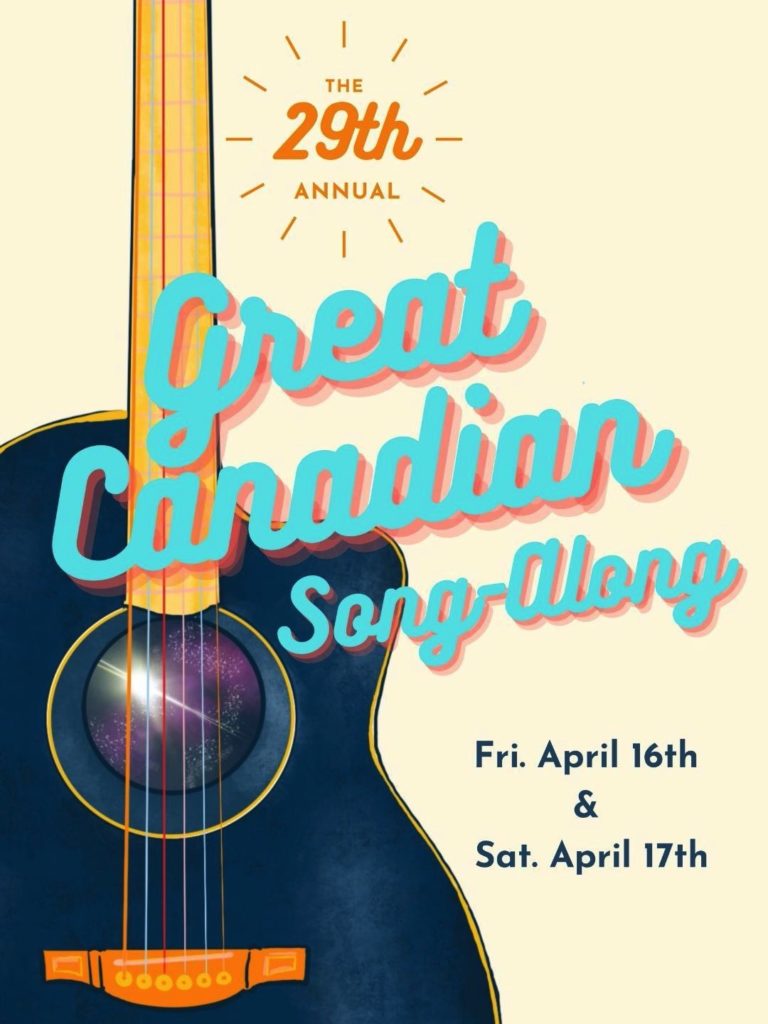 Featuring 44 new songs written for the occasion. Watch it any time on the Canadian Faces Facebook page at: https://www.facebook.com/canadianfaces
It's free, and you don't have to have a Facebook account.
In the past 29 years, more than 1,000 new songs have been written specifically for the Great Canadian Song-Along. This year, songwriters chose from four topics: As The River Flows, Drifting, Flying and Old Dogs.
The Song-Along was organized by several Ottawa songwriting groups. Christophe Elie hosted along with Greg Kelly. Helping to coordinate were Mark Evenchick and Chris White, who were also responsible for Zoom operations. Brenda Dunn created the digital poster. 
Performers
This is the original performing schedule. The artists and sequence may be somewhat different in the Facebook stream.
Concert #1
hosted by Greg Kelly
Stephen Palmer
Heather Adeney
Karen Oxorn
Jim Robinson
Lili Mivehchi and Kevin Ecker
Mark Fryars
Patricia Reynolds and Carmel Whittle
***
Chris White
Kathryn Adeney
Greg Kelly
Robert van Wyngaarden
Walk on the Wire (Anne Hurley and Jim Videto)
Janet Bentham
Lorne Weiner
Lindsay Ferguson
***
David Mayerovitch
Libby Hortop
Don Bray
Second Arrow (Craig Myers and Kym Newhook)
Paul Weber
Jamie Anderson
Mark Evenchick
***
After Hours Session
---
Concert #2
hosted by Christophe Elie
Dan Petti
Susanna Wiens
Darren LaBrash
Marnie Johnstone
Mark Nyvlt
Sheila White
Tony Turner
Christine Graves
***
Vivian Sollows
Don Wismer
Alise Marlane
Pat Moore
Pat Mayberry
Jennifer Noxon
Michaela Deng
Tina St John
***
Christophe Elie
Bob Geron
André Bouchard
Dawn Pritchard
Scott Guthrie
Arthur McGregor
Jill Jeffrey
Mary Ann Allossery
Alan Sandeman
***
After Hours Session