Our next concert:
Sjef Frenken & Friends
Saturday, March 23, 8:00 pm
Westboro Masonic Hall
Tickets $20 below or at the door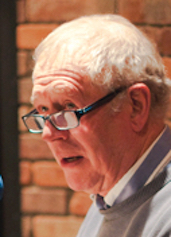 Sjef Frenken is a writer, a poet, a musician, a composer, a broadcaster, a father, grandfather and great-grandfather. Over the years he has collaborated with local artists on many music and poetry projects. We at Spirit of Rasputin's are proud to count him as a leader of our musical community.
On March 23 he will bring together a circle of friends to perform with him. Among them are Amanda Bon, Kathleen Johnson, Sophie Léger, Jennifer Pederson and David Simmonds. Click below to buy your tickets via credit card or PayPal.
Online buyers need no printed ticket.
We'll have your name on a list at the door.
---
May 1 brings the tenth anniversary of Gil's Hootenanny. Info and tickets here.
---
Other musical presenters are welcome to submit an event for listing on our site.
---
A call for performers for Hospice Care Ottawa.
---
Here's a message of welcome about our season from our President, Susan Sweeney Hermon.
And here are some friends' events that may interest you.
Explore our new website and find out what we've got for you this season.
Comments or questions? Write to comms@rasputins.org
Website issues? Write to webmaster@rasputins.org